A Masterpiece Remastered: Herman Miller's Aeron Chair – GLAMO Light Mirrors India.
When it debuted in 1994, the Aeron Chair completely transformed the notions of the conventional office chair. It was supportive, adjustable, and had a distinctive, modern profile quite unlike the leather executive chairs that preceded it.
Though it was a revolution for its time, those times have changed, and Aeron along with it. As of today, the Aeron Chair has been updated to fit into the workspace of today. The remastered chair features the latest material innovations and mechanisms to meet and exceed current standards of ergonomics and work health.
The original version of Aeron was designed by Bill Stumpf and Don Chadwick. Though it was truly a pioneer of ergonomic design, the science of sitting has been ever-evolving. (In fact, one could argue that Aeron's creation helped start the very ergonomic conversation that eventually led to its own updating.) Thus, more than 20 years later, it only made sense for Herman Miller to improve Aeron for its new audience. While retaining the essence of the iconic original, Aeron has been remastered from the casters up, thanks to the collaboration with the original co-designer, Don Chadwick.
The overall shape remains much the same as the original. However, Aeron has new features like 8Z Pellicle™ fabric for zonal pressure distribution and aeration, plus PostureFit SL™ for adjustable sacral and lumbar support. It is now also equipped with intuitive adjustments for optimal comfort and customization, with holistic material color palettes to fit in with and enhance modern environments. Meaning? The modern office chair just got a whole lot more comfortable and stylish.
A Healthier Seat
Aeron now has eight latitudinal zones across the seat and back. These zones help to vary the tension, while delivering more comfortable, ergonomic support. The pellicle suspension also helps you stay cool by allowing air, body heat, and water 
vapor to pass through the seat and backrest. This increase in aeration allows your skin to maintain an even and comfortable temperature.
The PostureFit SL™ mechanism provides you with the feel of natural movement. Equipped with adjustable sacral and lumbar support, these individual pads imitate a healthy standing position. What's more, the tilt mechanism now provides a smoother trajectory, which delivers an optimal balance point to help maintain control of movement while reclining.
Accommodating Performance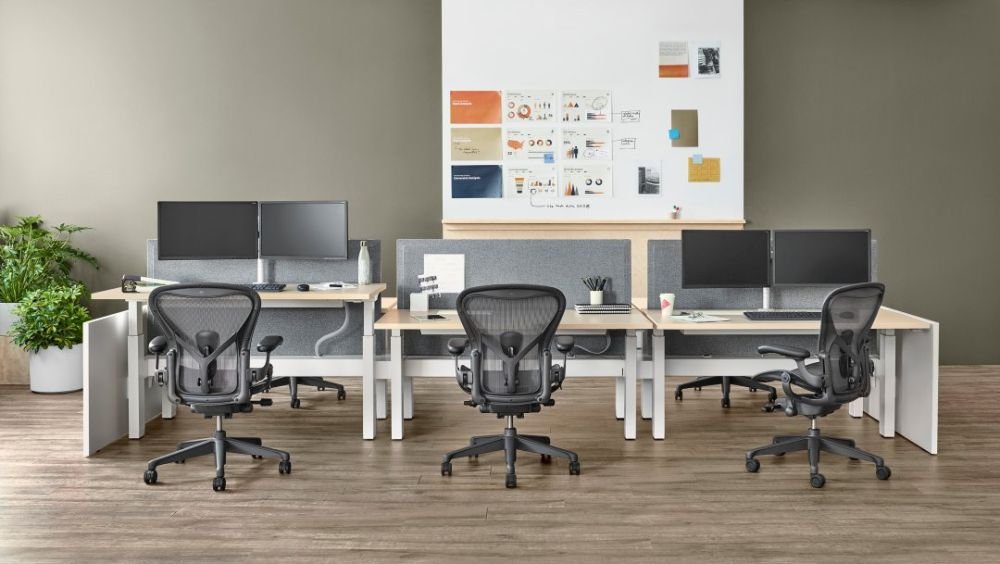 The Aeron is more adaptable than ever to the movements that come from various day-to-day tasks. It will provide the support and comfort you need, no matter your sitting stance. Whether it's accomplishing intense computer work or reclining in contemplation, Aeron performs across the board. While Aeron was adaptable before, a new and improved frame angle supports the body better than ever.
Better still, advanced engineering has given Herman Miller the ability to develop more intuitive fine-tuning. Rather than turning this knob and twisting that lever, the sitter can customize their recline in fewer than 13 turns.
All-Inclusive Design
People come in all shapes and sizes, and that's why Aeron comes in three base sizes. It's an inclusive approach to the modern workspace, giving everyone the opportunity to work at the same level of comfort, no matter their height or body composition. The anthropometric A-B-C sizing accommodates a range of heights and weights, allowing the user to select the best fit for their body type.
Fit For Every Space
Aeron aims to work in harmony with its surroundings. Since the environment of the workspace is ever-evolving in both look and feel, all of Aeron's new colors, materials, and finishes better suit the modern workplace. Aeron is now available in three holistic color palettes of pale grey Mineral, dark grey Carbon, and basic black Graphite.
Originally, Aeron featured materials composed of 39 percent recycled content. Aeron was also up to 91 percent recyclable. Today, Aeron not only weighs 3 pounds less than the original, but has also achieved Cradle-to-Cradle Certified Silver status.
By updating not only the engineering of the chair but also the look, Aeron creates a harmonious connection within its environment. That being said, while it blends in better than ever, there's no mistaking the iconic look. That's one thing that will never change. Go here to check out the entire collection of Aeron chairs and stools.