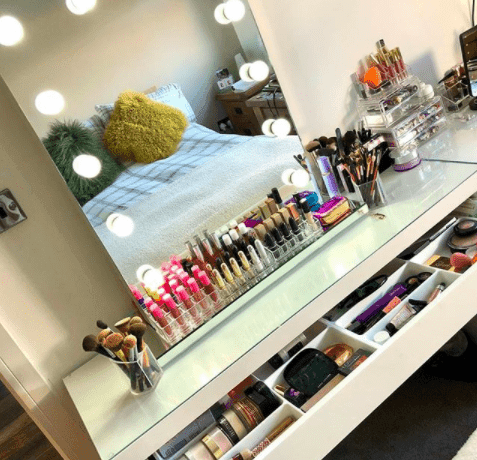 Hollywood Mirrors; Our customer looks – GLAMO LED Mirrors India.
Another month has passed and there have been some incredible customer Hollywood Shrine photos coming through our Instagram. We're here to showcase our favourite looks from our wonderful customers, with the intention of always showcasing our mirrors in home environments from hereon.
Celebrating our customers is very important to us, and it gives great inspiration as to how you can dress your room with your brand new Diamond X Hollywood mirror, here are our top picks!
Firstly, we've got this spectacular set up; not only has it got an incredible range of makeup beautifully arranged, but the accents of colour perfectly highlight the Diamond X Hollywood mirror! This setup is every girls dream, with the large range of products to choose from, it's the perfect getting ready station. Thanks to @justtjez for sharing!
Clean, crisp and glamourous. This serene setup is the perfect arrangement for someone who benefits from a tidy space. With all make up products cleverly concealed, the focus is entirely on the mirror, as it acts as the centrepiece to the room. Adding extra light to an already bright room, it's perfect for detailed make up application. Shop our range of wall mounted Hollywood mirrors here. Thanks to @alanamccraemakeup for the shot!
Last, but not least, is this fantastic set up from @charlotteliannesmith_home who has perfectly mixed a range of old and new mirrors within her dressing room to create the ultimate glamour pad to get ready in. Sticking to a theme of white and silver, these two mirrors perfectly compliment each other. The addition of varying textures adds depth and warmth to the room as well, making it one of the best dressing rooms so far!
With a range that holds over 20+ different styles of Hollywood mirrors, you are spoilt for choice; how will you dress your room? Find our full Diamond X Hollywood mirror collection here and we look forward to seeing your shrines come to life!