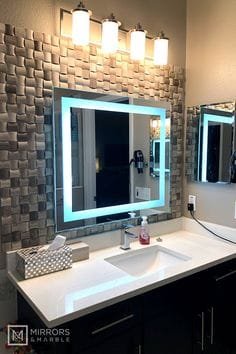 Innovative Features to Look for in an Android LED Mirror
Android LED mirrors have become a popular addition to modern bathrooms, providing bright and even lighting for makeup application, skincare routines, and more. As technology continues to evolve, so do the features of these mirrors. In this blog post, we will discuss some innovative features to look for in an Android LED mirror.
Voice Control
Voice control is an increasingly popular feature in smart home devices, including Android LED mirrors. With voice control, you can adjust the lighting, turn on/off the mirror, and even set reminders for your daily routine. This feature adds convenience and hands-free functionality to your daily routine.
Wireless Charging
Wireless charging is another innovative feature to look for in an Android LED mirror. With this feature, you can charge your phone or other devices while getting ready. It eliminates the need for cords and saves space on your bathroom counter.
Anti-Fog Technology
Stepping out of a hot shower can fog up traditional mirrors, making it difficult to apply makeup or shave. Anti-fog technology in an Android LED mirror eliminates this problem, ensuring that your mirror stays clear and usable at all times.
Smart Memory Function
A smart memory function is a feature that remembers your preferred lighting settings, magnification, and other adjustments, so you don't have to reset them every time you use the mirror. This feature saves time and adds convenience to your daily routine.
Adjustable Light Settings
Adjustable light settings are a standard feature in most Android LED mirrors. However, newer models offer a broader range of color temperature options, allowing you to mimic natural daylight or adjust the lighting to your preferences. This feature can help you achieve the perfect lighting for your makeup or skincare routine.
Magnification
Magnification is another essential feature to consider in an Android LED mirror. With magnification, you can see every detail and ensure that your makeup or skincare application is precise and even.
In conclusion, the best Android LED mirror for you depends on your personal preferences and needs. As technology continues to evolve, so do the features of these mirrors. Consider the innovative features discussed in this blog post, such as voice control, wireless charging, anti-fog technology, smart memory function, adjustable light settings, and magnification, to find the perfect mirror for your daily routine. Be sure to check out ledmirror.in for a variety of high-quality Android LED mirrors with innovative features.
Creating a Luxurious Spa Experience at Home with LED Mirror Cabinets