How to Choose the Best LED Light Mirror for Your Needs
Choosing the best LED light mirror can be a bit overwhelming, especially with so many options available on the market. However, there are a few key factors you can consider to help you choose the one that best meets your needs.
Size and Magnification: Consider the size and magnification of the mirror. A larger mirror allows you to see your entire face, while a magnifying mirror is useful for applying makeup or for personal grooming. Choose a mirror that suits your needs.
Lighting: LED light mirrors are available in different lighting options such as warm, cool, and natural light. Warm light is best for applying makeup, while cool light is better for general grooming. A natural light option will mimic daylight and provide the most accurate reflection. Choose the lighting that best suits your needs.
Adjustable Settings: Look for a mirror with adjustable lighting settings. This allows you to adjust the brightness and color temperature to suit different environments and lighting conditions.
Power Source: Consider the power source of the mirror. Some mirrors come with rechargeable batteries, while others need to be plugged in. Choose a mirror that is convenient for you.
Design: Consider the design and style of the mirror. Do you want a wall-mounted mirror or a tabletop mirror? Do you want a mirror with a sleek, modern design, or a more traditional style? Choose a design that fits your aesthetic.
Price: Finally, consider the price of the mirror. LED light mirrors can vary in price, so determine your budget and choose a mirror that offers the best value for your money.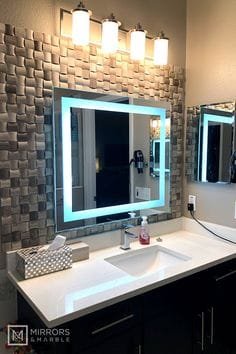 By considering these factors, you can choose the best LED light mirror for your needs.