The Science Behind LED Light Mirrors and How They Benefit Your Skin
LED light mirrors have become increasingly popular in recent years, thanks to their ability to provide better lighting for makeup application and personal grooming. But did you know that these mirrors can also benefit your skin? In this blog, we'll explore the science behind LED light mirrors and how they can improve your skin health.
What is an LED Light Mirror?
An LED light mirror is a type of mirror that features built-in LED lights around its border. These lights provide a brighter, more natural-looking illumination than traditional incandescent or fluorescent lighting. LED light mirrors can be either battery-operated or hardwired into your bathroom's electrical system, and come in a variety of sizes and shapes.
How Do LED Light Mirrors Benefit Your Skin?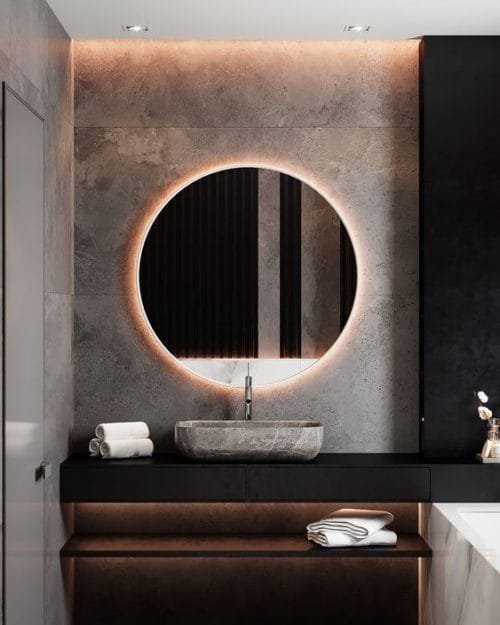 LED light mirrors provide a number of benefits for your skin, including:
More Accurate Color Rendering: LED light mirrors provide a more accurate representation of skin tone than other types of lighting. This is important when applying makeup, as it ensures that your foundation, concealer, and other products are properly matched to your skin.
Better Visibility: LED light mirrors provide a brighter, more even illumination that allows you to see your skin more clearly. This is especially important when performing tasks such as plucking eyebrows or removing facial hair, as it ensures that you don't miss any stray hairs.
Reduced Strain on Your Eyes: Traditional incandescent and fluorescent lighting can cause eye strain and fatigue, particularly when used in close proximity to your face. LED light mirrors provide a more natural-looking illumination that is easier on your eyes.
Stimulated Collagen Production: Certain types of LED lights, such as red and near-infrared light, have been shown to stimulate collagen production in the skin. Collagen is a protein that is essential for maintaining the elasticity and firmness of your skin, and its production declines as you age. By using an LED light mirror that emits red or near-infrared light, you may be able to promote collagen production and improve the appearance of fine lines and wrinkles.
Reduced Inflammation: Blue LED lights have been shown to have anti-inflammatory properties that can help to reduce redness and swelling in the skin. This makes them particularly useful for individuals with acne-prone or sensitive skin.
Where to Buy LED Light Mirrors?
If you're looking for high-quality LED light mirrors that are both functional and stylish, look no further than LEDMirror.in. They offer a wide range of LED light mirrors that are designed to suit a variety of needs and budgets. From wall-mounted mirrors to tabletop models, their selection is sure to have something that meets your needs.
In conclusion, LED light mirrors offer a number of benefits for your skin, from more accurate color rendering to increased collagen production. By incorporating an LED light mirror into your daily routine, you can achieve better skin health and a more flawless complexion. Visit LEDMirror.in today to explore their selection of high-quality LED light mirrors.
5 Reasons Why Every Beauty Enthusiast Needs a Vanity LED Mirror