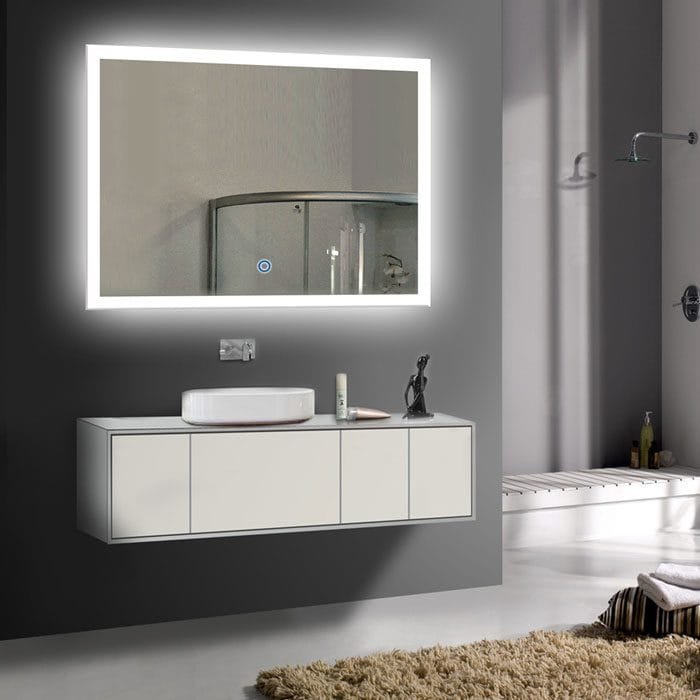 Different Types of LED Bathroom Mirror
Clever use of  LED mirrors in your bathroom will create the illusion of more space than there really is, something that is pretty useful in what is quite often the smallest room in the house.
They are also rather handy for checking that you don't have toothpaste smeared all over your face before you rush out of the door to work.
But when is a mirror not just a mirror? Well when it also includes an infra-red sensor, a steam-free heated pad, ambient lighting and a shaver socket of course! If that sounds like massive overkill, the great news is that you can stop reading, save some money and pop straight on down to our 'standard mirrors' section. If you like the sounds of any or all of those features – or if you're wondering what on earth I'm talking about – read on.
LED Mirrors
LED mirrors are a stylish and environmentally efficient addition to a bathroom. The use of small but mighty LEDs within the mirror means that you can have attractive and practical lighting without the large energy bills. Because of the inherent economy of LED lighting, you will even find some LED mirrors that are battery operated, meaning no hefty electrician's bills to have them installed – a great retro-fit option if ever there was one. This Bauhaus Radiance Mirror not only has lighting on the front, it has ambient back lighting around the mirror to create a warm and inviting feeling to your bathroom.
Fluorescent Backlit Mirrors
The backlit mirror is one of the most popular mirror types. Using fluorescent lighting tubes that sit behind the mirror teamed with etched glass to allow the light through, backlit mirrors give off a subtle but sufficient light that makes it easier to shave, apply make-up or do whatever it is that requires a well-lit reflection. If the word 'fluorescent' doesn't sound particularly attractive to you, this type of fluorescent bulb is a far cry from the picture of harsh flourescent lighting you are conjuring up in your head!
Infinity Mirrors
Infinity Mirrors popped up a few years ago and are either a great talking point or a less-than-practical gimmick, depending on who you ask. Using angled LED lights to create the effect of a never-ending series of light, the effect is impressive and they certainly create a stylish, modern look. From a practical point of view, the reflected view is not as clear as with a more conventional mirror, so bear that in mind when thinking about one.
Shaving Socket Mirrors
A practical design for the modern day gent, a shaving socket mirror typically offers the perfect lighting option, usually LED or fluorescent, teamed with a shaving socket for easy charging or operation of an electric shaver. Despite the name, the socket is just as often used for an electric toothbrush.
Heated Demister Mirrors
We've all been in that situation where you've stepped out of your bath or shower and your mirror is instantly unusable because of a swirling cloud of steam. Demister mirrors are a practical solution to this common problem. A thin demisting heat pad is placed behind the mirror which stops steam and condensation building up.