Maximize Your Space and Technology with a Bluetooth-Enabled Bathroom Mirror
The bathroom is often one of the most challenging spaces to maximize in terms of both space and technology. With limited space and a lack of electrical outlets, it can be challenging to incorporate technology into this room. However, with a Bluetooth-enabled bathroom led  mirror, you can achieve both space and technological efficiency in one.
Here are some reasons why you should consider upgrading your bathroom mirror to a Bluetooth-enabled one:
Space-saving Bathroom space is often limited, and adding bulky gadgets can take up even more valuable space. A Bluetooth-enabled mirror can help maximize your space by combining several functionalities into one item. With built-in lighting, a Bluetooth speaker, and a Led   mirror, you can have all of the functionalities you need without taking up too much space.
Streamlined design A Bluetooth-enabled Led mirror is often designed to be sleek and streamlined, with a minimalist design that blends in seamlessly with any bathroom decor. It can add a touch of modernity and elegance to your bathroom while still providing the necessary functionality.
Connectivity Bluetooth-enabled mirrors allow you to connect your smartphone or other Bluetooth-enabled devices directly to the mirror. This feature can provide you with access to your favorite music, news, and podcasts while you get ready. It also means that you can take phone calls or respond to messages without having to leave the bathroom.
Customizable lighting Many Bluetooth-enabled mirrors come with adjustable lighting, which can help you achieve the perfect lighting for your makeup or skincare routine. The ability to customize the lighting to your specific needs can save you time and make your routine more efficient.
Hands-free operation With voice command features, Bluetooth-enabled mirrors provide a hands-free experience. You can adjust the lighting, control the music, or take phone calls with voice commands, all without having to touch your phone or the mirror.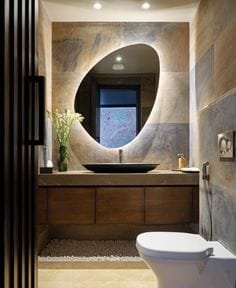 Overall, a Bluetooth-enabled bathroom mirror can be a game-changer for maximizing space and technology in your bathroom. If you're interested in upgrading your bathroom mirror, be sure to check out LEDMirror.in. They offer a wide selection of Bluetooth-enabled mirrors in various sizes and designs to fit your needs.